"Full of heady string arrangements and rock guitars, reminiscent of early XTC and Siamese Dream era Smashing Pumpkins."
Cosmik Debris

"...their folky chamber rock songs have a similar depth of feeling. They easily mix strings sections with edgy abrasive guitar parts and both factions are better off for it."
The Big Takeover

"..., the twelve songs are all catchy enough to make this disc a worthy addition to your pop music library. "
Fufkin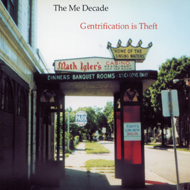 An Americana hodgepodge of various influences that relies on complex string and vocal arrangements as much as it does streamlined acoustic-based songwriting.

This 12 song stew of Larry O. Dean's self-conscious, sardonic songwriting is rife with aromatic arrangements, tasteful melodies, honeyed harmonies and delicious witticisms. For all it's titular politicking, Gentrification Is Theft offers up an ample side dish of self-effacing humor along with its more serious undertones, which in turn makes it a rich, rewarding album that reveals more and more of itself upon repeated listens.